Trinity College London - Accreditation in Bangalore
discover
trinity college london
Drama and Speech Assessments
INTRODUCTION TO TRINITY COLLEGE LONDON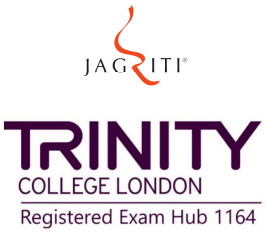 Trinity College London is a leading international exam board and independent education charity that has been providing assessment of communicative and performance skills covering music, drama, combined arts and English language around the world since 1877.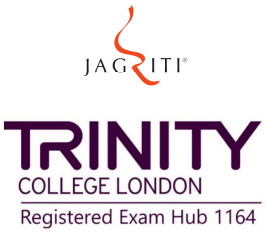 WHY TRINITY?
With over 850,000 candidates a year in more than 60 countries worldwide, Trinity qualifications are specifically designed to help students progress. Teachers and students choose Trinity because we offer:
An unmatched range of study options and qualifications.
A structured framework for progressive development of skills over time for students and teachers at all levels of experience and ability.
Syllabuses accessible to candidates of all ages and from all cultures.
Individual, pair and group assessments with clear guidelines and detailed assessment criteria.
Highly qualified examiners who are trained to provide maximum support and encouragement throughout the exam process.
TRINITY IN INDIA
Trinity has a very rich heritage in India dating back over 125 years. Trinity College London provides exams and awards qualifications in over 60 countries around the world.
Every year around 100,000 candidates appear for Trinity assessments in Creative & Performing Arts and English Language from over 100 centres across the country.
Around 100,000 examinations in
English Language
Communication Skills
Drama and Performance
Music/ Rock & Pop
WHY TRINITY DRAMA AND SPEECH?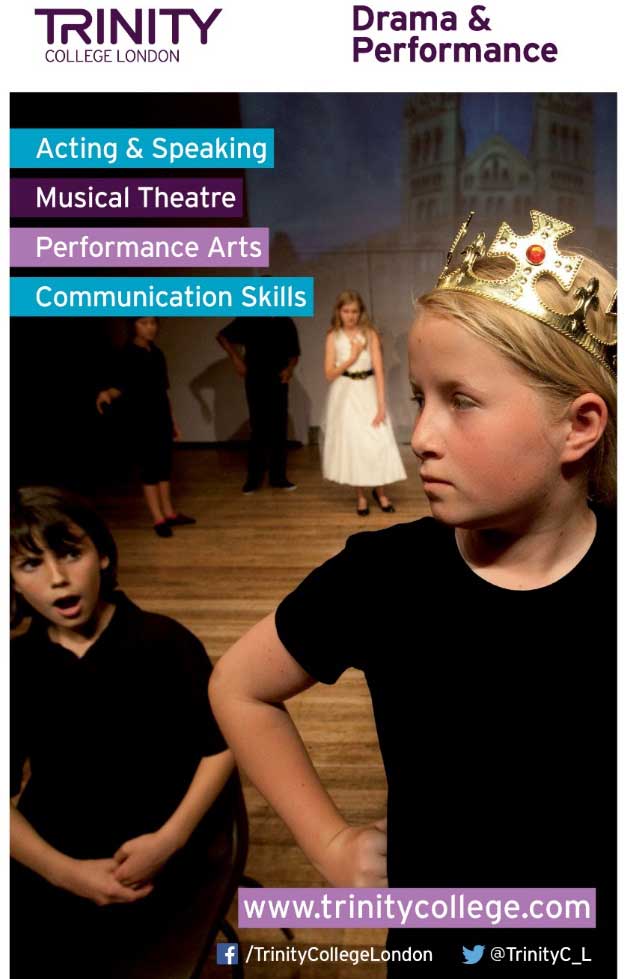 The Trinity College London examinations in Drama & Speech assess students' English abilities through a variety of performance arts.
Through acting, musical theatre, and communication skills assessments, students can showcase and further develop their inner creativity.
The examinations provide candidates with an opportunity to measure their progress against an internationally applied standard.
Exams can be taken by individuals, pairs or groups. The solo and pair grade exams and diplomas are fully accredited in the UK, US and recognised internationally in many other countries
SUBJECT 1: ACTING AND SPEAKING
Acting and speaking focuses on developing skills through performance. They encourage learners to engage with a wide variety of texts and techniques that enable them to demonstrate a range of creative skills through live practical assessment.
The performances you want to give
Choose the syllabus strand that suits your individual strengths and make the exam your own by creating your own programme from pieces you're already studying, that you enjoy, or that present a new challenge.
The skills you need to develop
Performance-grounded exams are specifically designed to develop your skills through the repertoire you perform, and have the flexibility to allow you to focus on the areas where you want to specialise.

ACTING AND SPEAKING ASSESSMENTS:
Speech and Drama:

The Trinity syllabus in Speech and Drama offers the candidate complete freedom of choice over performance items, and can include acting and performance poetry. Candidates also have a choice between sight- reading or story-telling, including improvisation and discussion of the selections made. As the grades advance, candidates should be able to discuss relevant aspects of theory.

Performing Text:

Performing Text is a popular alternative to the Speech and Drama syllabus, and is a good option for candidates who wish to develop performance skills but do not wish to demonstrate specific skills in acting. This syllabus concentrates on performance of verse and prose, and prepared and unprepared reading. In the early grades, less memorised text is required.
SUBJECT 2: COMMUNICATION SKILLS
Through the use of a wide range of spoken English in different contexts, communication skills exams encourage candidates to develop their proficiency in all modes of oral communication —including face-to-face interpersonal skills, group discussions, making presentations and public speaking.
All exams comprise a series of tasks which have direct application to the communication challenges that candidates meet — or will meet — in real-life situations such as at job interviews, and when giving presentations and undertaking negotiations.
Equally applicable to social, professional and public arenas, these qualifications help candidates to become more confident when speaking, to use a range of different language styles to communicate effectively with an audience, and to express themselves and their ideas with clarity and assurance.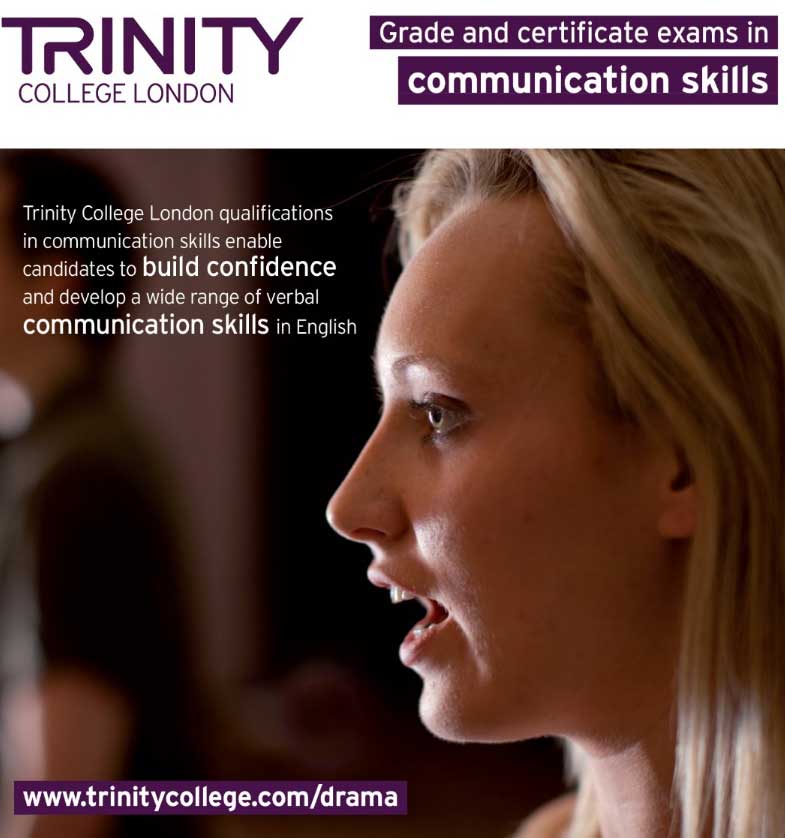 WHO IS THIS FOR?
Individuals and groups from grades initial (pre-foundation) to 8.
At its higher levels, these assessments have proved to be a valuable addition to preparation for a range of professions such as the law, medicine, business, religion, and teaching.
Even speakers of English as a second language have found the challenges of this syllabus valuable, for examplein preparation for business or conference presentations in English.
Professional Certificate in Communication Skills for adults. This syllabus has proved a popular resource for specialist communication teachers and tutors; who have successfully used it to increase confidence and skill in all modes of speech communication, whether for social, professional, or public situations.
GIVE YOURSELF THE TRINITY EDGE
SUITABLE FOR ALL
Trinity College London Drama & Speech examinations will benefit native English speakers as well as those for whom English is a second or foreign language. The assessments are fun and engaging for all age groups. Flexible exams give candidates the opportunity to perform to their strengths and interests. We aim to encourage candidates to bring their own choices and interests into our exams — this motivates students and makes the assessment more relevant and enjoyable
BUILDING CONFIDENCE
Students receive critical appraisal and guidance for future development. As they progress through the levels, they build self-confidence and self-esteem, and acquire new skills. When students pass an assessment, they receive a Trinity certificate, which serves as an internationally recognised record of their personal achievement.
INTERNATIONAL STANDARDS AND RECOGNITION
Trinity drama exams are officially recognised by the Office of Qualifications and Examinations Regulation and by education authorities worldwide. Diplomas are fully accredited in the UK, US and recognised internationally in many universities as extra credits.
TRANSFERABLE SKILLS
Self evaluation, problem solving, creativity, critical thinking, self management language skills, planning and organization, presentation skills.
WHERE THE QUALIFICATIONS COULD LEAD
The Trinity graded and certificate exams in acting and speaking offer progression routes towards:
Diplomas in performing or teaching offered by Trinity or other awarding organisations
Drama or literature courses at further and higher education institutions
Employment as a result of increased communication, presentation and teamwork skills.
INFORMATION ON THE ASSESSMENT
The examinations are assessed by experts and professionals in their field sent to the Exam Centre from London.
The exams are normally assessed by one examiner who watches the work presented.
The examiner writes a report on the extent to which the candidate has met the learning outcomes of the qualification and awards marks in line with the published assessment criteria and attainment descriptors.
Each candidate receives written feedback on passing the exam and a certificate.
| The 4 C's | Trinity's Assessment Criteria |
| --- | --- |
| COMMUNICATION | Use appropriate and effective range of verbal and non verbal skills in a variety of situations |
| COLLABORATION | Interact with individuals, groups and/or simulated audiences. Exchange information, ideas, opinions |
| CRITICAL THINKING | Summarise & process ideas and information using effective language functions |
| CREATIVITY | Use appropriate physical and vocal resources to engage and communicate through performance |
fee structure
| Grade/Certificate | Solo (INR) | Pair (INR) |
| --- | --- | --- |
| Initial | 3,200.00 | |
| Grade 1 | 3,690.00 | 5,540.00 |
| Grade 2 | 4,210.00 | 6,320.00 |
| Grade 3 | 5,030.00 | 7,550.00 |
| Grade 4 | 5,670.00 | 8,510.00 |
| Grade 5 | 6,200.00 | 9,300.00 |
| Grade 6 UCAS*Tariff Points | 7,880.00 | 11,820.00 |
| Grade 7 UCAS*Tariff Points | 8,610.00 | 12,920.00 |
| Grade 8 UCAS*Tariff Points | 9,930.00 | 14,900.00 |
| Professional Certificate in Communication Skills | 14,000.00 | |
| Young Performers Bronze Certificate | 5,010.00 | |
| Young Performers Silver Certificate | 5,930.00 | |
| Young Performers Gold Certificate | 7,300.00 | |
| Foundation Performance Certificate | 5,530.00 | |
| Intermediate Performance Certificate | 7,050.00 | |
| Advanced Performance Certificate | 12,090.00 | |
| Group Surcharge ** | 820.00 | |
Fees for Grade and Certificate exams in Drama and Speech India (1 April 2019 to 31 March 2020)
The closing date for registration, submission of candidates details and fee payment for the Trinity Examinations for Oct/Nov 2019 session is Sunday, 04 August 2019.
way forward
For more information on how you/your child/your school can set up this assessment please contact:
Rebecca Spurgeon
You may download FREE syllabuses from www.trinitycollege.com or contact info@jagrititheatre.com for a syllabus set to be couriered to your address absolutely free of cost.